AD CAMPAIGN IN NRI MEDIA:

"Did Our Generosity Fund the Carnage in Gujarat?"

This full-page ad appeared in India Abroad and India West during the week of May 27th. Both India Abroad and India-West are two of the largest Indian weekly newspapers appearing in the U.S.
download pdf
---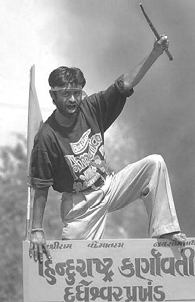 Did Our Generosity Fund the Carnage in Gujarat?

"I earnestly request NRIs not to donate money to spread hatred in India, neither to the VHP nor to Islamic fundamentalists…Don't give it to people who propagate violence."

I.G. Patel, Former Director, Reserve Bank of India, Rediff.Com 5/13/2002


This is a Defining Moment for India.
The Choice Before NRIs has Never Been Clearer:
We can either stand on the sidelines as communal forces use our money to peddle hate and violence, and try to divide Indians from Indians
Or
We can actively support those who are working for immediate rehabilitation of the victims, for punishment of all the guilty, and for communal harmony

"Many overseas Indian Hindus - including some in this country - finance religious groups in India in the belief that the funds will be used to build temples, and educate and feed the poor of their faith. Many would be appalled to know that some recipients of their money are out to destroy minorities (Christians as well as Muslims) and their places of worship. Mr. Vajpayee could deal a severe blow to such covert causes by simply labeling them as terrorists."

Kanwal Rekhi and Henry S. Rowen, The Wall Street Journal, 5/22/2002


THINK BEFORE YOU DONATE!
Please donate generously for rehabilitation of the victims and support this community message by logging on to www.ektaonline.org/cac

Sponsored by: Coalition Against Communalism (CAC)

In memory of all the Hindus killed on the train in Godhra and all the (mostly) Muslims killed in the subsequent pogroms.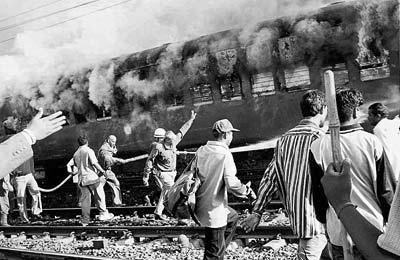 ---