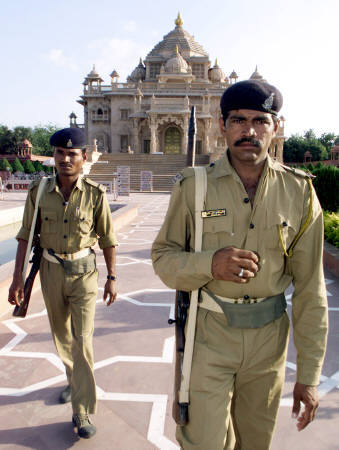 CAC CONDEMNS THE TERRORIST ATTACK AT AKSHARDAM
Appeals for State and Central Governments to keep the peace, and protect the lives of all its citizens; Appeals to all to keep the peace.
CAC condemns the terrorist attack on devotees and visitors at Akshardham, the Swaminarayan temple in Gandhinagar, Gujarat. We offer our condolences to the families of victims and law enforcement personnel killed and injured
in the tragedy, and applaud the prompt action of the law enforcement authorities in bringing the situation under control.
As APJ Abdul Kalam, the President of India, has said, advocates of sectarian violence seek to destroy the secular fabric of India. There can be no justification for terrorism, and this is a time to unite in our common grief at the loss of lives and sacrilege to a holy place. In the words of Dr. Kalam, 'We should unitedly defeat all the evil designs against our great country which lives and shines through the civilizational heritage of our nation and the tolerance of our people.' This is particularly true in Gujarat, where disasters, man made and natural, have ravaged communities in the last two years. The intended results of the terrorist attack at Akshardham must not be allowed to materialize.
We ask the State and Central governments to keep the peace, and perform
their duty to protect the lives of all its citizens. A recurrence of communal killings will not only be an insult to the victims at Akshardham, it would be a treasonous act that betrays India since it will fulfill the goals of the killers who attacked the temple. We also ask the State and Central government to ensure that the perpetrators of this terrorist acts, and their co-conspirators are brought to a speedy and fair trial, to rebuild faith in the State's rule of law.
The people of Gujarat must also act to preserve peace, their heritage, and their future. Gujarat cannot once again descend into a frenzy of hatred.
Coalition Against Communalism
CAC is a San Francisco Bay Area organization committed to upholding India's constitutional safeguards on secularism, and promoting secularism both within India, and among Indian communities worldwide. For more information, please e-mail cac@ektaonline.org.