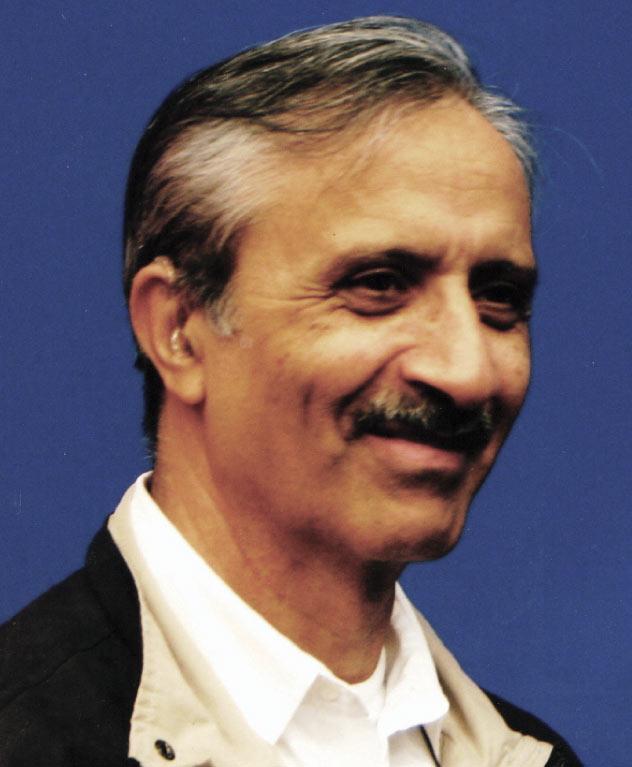 A TRIBUTE TO
MAHARAJ KAUL
(1940-2009)

Ved Prakash Vatuk bids a fond farewell to Maharaj Kaul, a passionately committed activist who worked for progressive causes for decades. Kaul died Sept. 30.2009
SOFT AS A LOTUS
HARD AS A ROCK
On September 6, 2009 I got a call from my dearest friend Maharaj Kaul. He said, "I did not want to tell you that I have been diagnosed with a liver cancer. I did not want to tell any- one and worry him/her. But now the time has come to transfer the responsibilities of running our organization India Relief and Education Fund. So I have to tell a few friends."
It showed that even in his last few weeks he was not so worried about his horrible disease as he was about the feelings of his friends. Ashok Bardhan, one of the trustees, and I decided to visit him the next day with his assent. The visit lasted for only half an hour. He told us the cancer has reached the dangerous point. If the therapy works, he may live for two more years, otherwise maybe six months." He already was meticulously planning an action to distribute his collection of books, videos that he made, the exhibitions of various kinds to hand over to the proper persons, so the work for social change can continue. When we tried to tell him that the time has not come up yet, he said, "I am a realistic man. I know what is happening to me. I have achieved 90 percent of what I wanted to do. I am satisfied." He was tired and we left, so he can rest. But before we left he made us promise not to tell anyone. "Not yet."
And next time we planned to visit him on Sept. 30. We were only fifty yards away from his house when his daughter called, "Uncle, he just passed away. At 11:05 am."
And thus, a great soul departed leaving his old father, two brothers, four sisters, a daughter, two grand daughters and many relatives behind. All were present there to offer their last prayers. He was so beloved.
Maharaj K. Kaul, born on Nov. 11, 1940 in Srinagar, Kashmir, was the second son of Kashi Nath Kaul, a civil servant the in Kashmir State Government, and Shobha Devi. After getting his engineering degree from Patiala, Punjab, he got his Ph.D. in civil engineering from the University of California, Berkeley in 1972. Till his death he was working with G.E in their research wing. He authored several research papers and he was well known in his field. But Maharaj's passion was the work he did promoting social justice, economic equality and freedom for masses. Ever since his university days, when he was active in India Forum, he relentlessly worked for his passion.
He was the founding member of many organizations, such as South Asians for Collective Action, Coalition against Communalism, Pakistan - India –Friendship Society, Gadar Heritage Foundation and the founding director of India Relief and Education Fund He had organized dozens of film screenings of progressive Indian films, plays and other events to promote the causes close to his heart. He never sought fame or credit for his tireless work. And his mother fondly told us many times he was a gentlest saintly son and friend. Indeed he devoted so much time to solve problems of his friends. He was total giver.
We can not put in words what we lost in his demise. We send our deepest condolences to his bereaved family, particularly his father and beloved daughter Aparna and her two lovely daughters.
---
Poet folklorist Ved Prakash Vatuk's many awards include the U.P. government's Pravasi Bharatiya Hindi Sahitya Bhushan. "Essays in Indian Folk Traditions," his collected writings, has just been published by the Folklore Institute, Berkeley, Calif.
Soft As A Lotus Hard As A Rock (PDF - 704 kb) PDF version of the original article as it appeared in siliconeer.com, October 2009 (Volume X. Issue 10 | ISSN 1528-9273)
---
SPEAK OUT AGAINST THE HINDUTVA ASSAULT ON CALIFORNIA HISTORY TEXTBOOKS
Details: Visit the CA Textbooks Issue Home Page
Today, we in California are facing a Hindutva assault on school history textbooks of the kind that went on a few years ago in India. This is an issue of rising concern in the California community and we at CAC are alarmed by these attempts to misrepresent India and South Asia's ancient history and the history of Hinduism. Please join us in speaking out against these attempts to distort history texts with propaganda. (more info)
---

NOTORIOUS INDIAN HUMAN RIGHTS ABUSER
DENIED ENTRY INTO US!
Coalition of thirty five human rights organizations
wins first victory

"Victory and a New Resolve for Justice" Rally to be held as scheduled on Sunday March 20th 4:30 PM Outside the Madison Square garden.
NEW YORK— The American State department decision to deny Mr. Narendra Modi, the Chief Minister of Gujarat and chief architect of the Gujarat pogrom of 2002, a diplomatic visa and to revoke his existing tourist/business visa based on the International Religious Freedom Act is a landmark victory for the Coalition Against Genocide (CAG).  The denial of a visa to Mr. Modi is not the outcome of a diplomatic battle between governments, instead it reflects the strength of the transnational alliance between South Asian organizations and human rights groups in the U.S.  The CAG action against Modi that began February 24th 2005, ran simultaneous campaigns on multiple fronts and received strong support from international organizations such as Human Rights Watch (HRW), Institute on Religion and Public Policy (IRPP) and Amnesty International (AI).  The 35 organizations in U.S. and Canada that constitute CAG represent a spectrum that include women's organizations, youth collectives, secular groups as well as Hindu, Sikh, Christian and Muslim organizations (www.coalitionagainstgenocide.org)
Mr. Modi is directly implicated in the 2002 massacre in Gujarat, India, of more than 2,000 persons and is a member of a violent and chauvinistic Hindu nationalist organization called the Rashtriya Swayamsevak Sangh (RSS – National Volunteers Corps). The RSS is a shadowy all-male organization drawing inspiration from Hitler and Mussolini that trains militia-like groups of men and indoctrinates them into ideologies of racial/religious cleansing. Mr. Modi currently faces two law suits for crimes against humanity in India, and is in violation of international laws and conventions including Convention on the Elimination of all forms of Discrimination Against Women, and the International Religious Freedom Act of 1998.
The Coalition Against Genocide (CAG) campaign focus was to educate and inform the American public and policymakers about Mr.  Narendra Modi's role in the 2002 Gujarat pogrom and in preventing justice being delivered to the victims of the pogroms. Although Mr. Modi is attempting to characterize the state department's visa denial as a nationalist issue, we would like to point out that he was not here to represent the Indian state. Instead, he was sponsored by a corporate entity, the Asian American Hotel Owners Association (AAHOA), that condoned his abysmal human rights record  and invited him as chief guest for their annual convention in Fort Lauderdale, Florida on March 24, 2005. CAG's publicity and outreach actions included letters to Secretary of State Condoleezza Rice, a campaign to inform members of the U.S. Congress, and a phone and fax campaign against MSNBC host Chris Matthews, American Express and the California State University, Long Beach, who were sponsoring and participating in Mr. Modi legitimation process during his U.S. visit.  CAG's first success came when Chris Matthews withdrew from the AAHOA convention. Further, the CAG campaign moved Rep. Conyers to introduce Resolution 156 in Congress condemning Mr. Modi and finally led to the denial/revocation of the visas by the State department.  Responding to the announcement of visa denial, CAG spokesperson Usha Zacharias said the visa denial decision "is a testimony to the work done by large segments of the progressive organizations in India and abroad who documented in great detail the abuses of Mr. Modi. CAG's work in the U.S .was to use this detailed documentation and highlight the desperate need for justice to the victims of the pogrom in Gujarat."CAG will continue with its plans to hold a rally on Sunday March 20th at 4:30 PM outside the Madison Square Garden where Mr. Modi was to speak, except that it will be a "VICTORY AND A NEW RESOLVE FOR JUSTICE" rally instead of a protest. The Sunday rally will highlight the continuing human rights violations in Gujarat and push further for the speedy delivery of justice to the victims of the 2002 pogrom. In addition the rally will challenge the role of the US supporters of the divisive politics espoused by Mr. Modi and his political party, and their attempts to direct money to institutions in India that promote hate-mongering and communal violence. CAG  considers the denial of visa to Mr. Modi as a clear victory for supporters of human rights and justice in the U.S. and in India. It sends a clear message that perpetrators of religious and political persecution can be held accountable for their actions through dedicated work by broad, inclusive coalitions.  Indian and U.S. groups share a long, common tradition of battling for human rights, and securing justice for the oppressed that CAG and its partners will continue to build on.  In this context, we call on the Indian government to legally follow up this decision by pressing criminal charges against Modi, and by choking the funding pipeline that runs from the U.S. to India to facilitate the growth of  Hindutva's violent politics.We also call on all organizations concerned with minority rights and women's rights to join us in our battle against the RSS ideology of ethnic cleansing we witnessed in horrific detail in the 72-hour pogrom in Gujarat. Amnesty International has clearly held the state of Gujarat, headed by Mr. Modi, responsible for gender crimes in its report, Justice, the victim - Gujarat state fails to protect women from violence http://web.amnesty.org/library/index/engasa200012005, as has Human Rights Watch. The cancellation of Mr. Modi's visit represents the first step in a battle we must continue to fight.
For more info on Coalition Against Genocide (CAG), please visit
www.coalitionagainstgenocide.org
---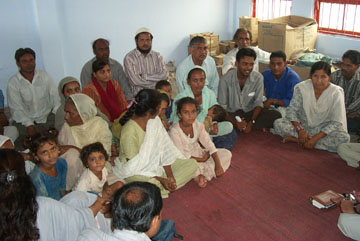 A REPORT TO CAC and EKTA DONORS ON THE REHABILITATION OF THE SURVIVORS OF COMMUNAL VIOLENCE IN GUJARAT
click here
---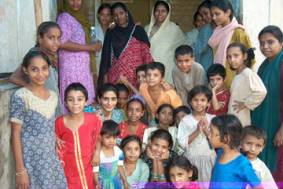 Children of Shahpur Camp #26
ARISE! AWAKE!!
*

Reflections From Our Trip to Gujarat, Delhi, and Other State Capitals
NRISAHI Sadbhavana Mission to India,
September 6-24, 2002


(* With apologies to Swami Vivekananda, whose spirited and unabashed defense of Hinduism from yesteryear is being wilfully distorted by some into a hate campaign against the minorities of India.)
We are a delegation of NRIs, representing various organizations from the U.S., who went to India on a non-partisan humanitarian mission, to see for ourselves the aftermath of the Gujarat carnage. We went there to listen, and to learn about what we can do to support initiatives for communal harmony. We met a wide cross section of civil society, including the victims of the unprecedented violence; NGOs who have been caring for them; and other citizen's groups, businessmen, religious leaders, politicians and the media. As ruling party officials in Gujarat and New Delhi declined to meet with us, we could only meet with the opposition parties. We conveyed to them our views on the desperate humanitarian situation in Gujarat, and challenged them on how they would rule differently should they return to power. We presented our observations and recommendations in a memorandum to the President of India, A.P.J. Abdul Kalam, at the Rashtrapathi Bhavan on September 12. We met the Chief Minister of Andhra Pradesh, Mr. Chandrababu Naidu, on September 23, and urged him to use his influence in New Delhi to bring some hope to those who are still being victimized in Gujarat.Most of us are now back in the U.S. to share our experiences with others; to raise awareness in the NRI community about the dangers of continued silence about the break-down of the rule of law in Gujarat; and to raise funds for the rehabilitation of the victims. Some of us plan to spend more time in India to pursue individual actions in support of communal harmony and/or to work against the politics of hate.
We have prepared this write-up for our friends, and others who care about what is happening in India, to give them a sense of what we saw and heard. Our observations are based on notes and recollections by some of us, and do not necessarily represent the collective view of this diverse delegation. Where possible, we have included a Q & A format, representing the general thrust of our conversations with our hosts (not direct quotes).

read more...
---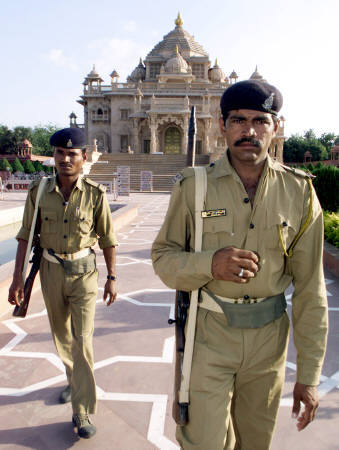 CAC CONDEMNS THE TERRORIST ATTACK AT AKSHARDAM
Appeals for State and Central Governments to keep the peace, and protect the lives of all its citizens; Appeals to all to keep the peace.CAC condemns the terrorist attack on devotees and visitors at Akshardham, the Swaminarayan temple in Gandhinagar, Gujarat. We offer our condolences to the families of victims and law enforcement personnel killed and injured
in the tragedy, and applaud the prompt action of the law enforcement authorities in bringing the situation under control.
As APJ Abdul Kalam, the President of India, has said, advocates of sectarian violence seek to destroy the secular fabric of India. There can be no justification for terrorism, and this is a time to unite in our common grief at the loss of lives and sacrilege to a holy place. In the words of Dr. Kalam, 'We should unitedly defeat all the evil designs against our great country which lives and shines through the civilizational heritage of our nation and the tolerance of our people.' This is particularly true in Gujarat, where disasters, man made and natural, have ravaged communities in the last two years. The intended results of the terrorist attack at Akshardham must not be allowed to materialize.We ask the State and Central governments to keep the peace, and perform
their duty to protect the lives of all its citizens. A recurrence of communal killings will not only be an insult to the victims at Akshardham, it would be a treasonous act that betrays India since it will fulfill the goals of the killers who attacked the temple. We also ask the State and Central government to ensure that the perpetrators of this terrorist acts, and their co-conspirators are brought to a speedy and fair trial, to rebuild faith in the State's rule of law.
The people of Gujarat must also act to preserve peace, their heritage, and their future. Gujarat cannot once again descend into a frenzy of hatred.
---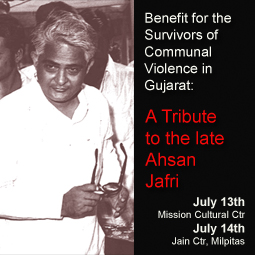 CAC and EKTA
RAISES $50,000 FOR THE SURVIVORS OF COMMUNAL VIOLENCE IN GUJARAT

Coalition Against Communalism (CAC) and EKTA organized the first major fund-raising event in the Bay Area for the survivors of the recent communal violence in Gujarat. The two-day event was held at the Mission Cultural Center in San Francisco (July 13) and the Jain Center of Northern California in Milpitas (July 14), and was a tribute to the late M.P. and peace activist, Ahsan Jafri, who was burnt alive by mobs, along with over 150 other people who had taken shelter at his home in Ahmedabad, on February 28th, 2002. In addition to moving presentations by the late Jafri's daughter and son-in-law, Nishrin and Najid Hussain, a recent documentary by Gopal Menon, Hey Ram: Genocide in the land of Gandhi, was screened, and a number of local artists performed at both events. The two fund-raising events raised over $25,000 for relief efforts in Gujarat. American India Foundation (AIF) contributed an additional $25,000 in matching funds, making a GRAND TOTAL OF $50,000 for relief and rehabilitation efforts in Gujarat. SAATH, a member of Citizen's Initiative, was identified as the recipient of the funds raised.(Details of SAATH's proposal.)
CAC and EKTA would like to thank the many organizations who co-sponsored our two fundraising events- India Relief and Education Fund, Association for India's Development (Bay Area Chapter), Friends of South Asia, Global Exchange, Indian Muslim Relief Committee, Narika, South Asian Bar Association, 3rd I and Trikone- and the many dedicated volunteers, performers and donors who made our efforts a success!
---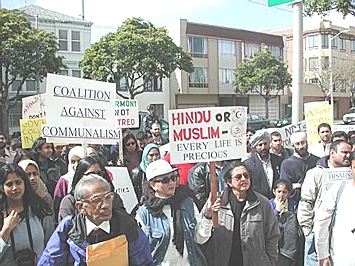 APPEAL FOR PEACE AND JUSTICE IN GUJARAT
Coalition Against Communalism gathers to condemn the violence and demand justice for all victims in Gujarat; Indian Consulate presented with petition bearing 4233 signatures asking the National Human Rights Commission to ensure human rights and justice in Gujarat; Gathering draws 250.
read more
---